FOR THE PERFECT DUNK OR PERFECTLY INDULGENT CREATIONS.
Whether it's the ultimate cookies and milk combo you're looking for, or delicious inspiration for your next decadent creation, Purity Chocolate Chip Cookies always deliver. Pick them up for a fantastic solo indulgence or incorporate them into a mouth-watering dessert your family will love.
Get satisfied, get inspired. Pick up your favourite goodies in the Purity aisle.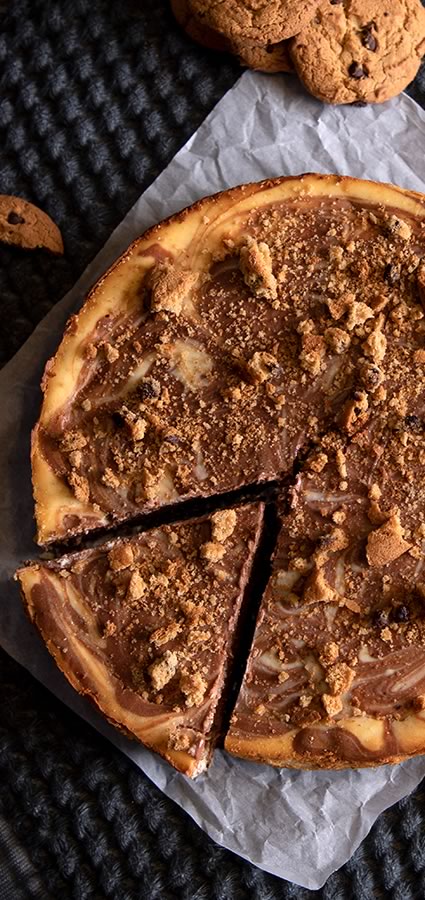 C

hocolate Chip
Cheesecake
✻
Ingredients:
2 cups crushed Purity Chocolate Chip Cookies (reserve 1/4 cup for topping), 1/2 a cup of melted butter, 3 packages of 8oz cream cheese, 1 cup sugar, 2 tbsp flour, 1 tsp vanilla, 3 eggs, 1/4 cup milk, 1/4 cup of melted semi-sweet chocolate, optional chocolate sauce.
Instructions:
For the crust, stir together cookies and butter. Press mixture onto bottom and about 2 inches up sides of an 8 or 9-inch springform pan. For the filling, soften cream cheese and combine with sugar, flour and vanilla; beat with mixer until combined. Beat in eggs all at once and stir in milk (don't over mix). Add 1/4 cup of melted chocolate to half the filling mixture and set aside. Pour the plain filling into your crust-lined pan first, then add the chocolate filling. Using a knife, swirl the two fillings together gently, making sure not to overdo it. Top with reserved crumbs and place on a shallow baking pan. Bake in a 375 degree F oven for 45 to 50 minutes for 8-inch pan, 35 to 40 minutes for 9-inch pan, or until edges look set when shaken gently. Cover and chill at least 4 hours before serving. Top with chocolate sauce if desired.